Recently, I've been dabbling into other languages again. While I've tried to set a primary and secondary language for the year, there's just an itch to play with a new sound set and grammar system. 
So, after making progress on my Greek and Japanese goals, I downloaded an app. One I tried years ago. Because the language I had in mind is off the beaten path for most language learning apps. 
Three or four years ago, I downloaded the Ling App for Bengali. Mobile apps for Bangla were few and far between, especially with audio. But I couldn't stick with it at the time. For one, I didn't see myself making progress. And in addition, the app focuses on highly formal language. After my experience with Hindi, I wanted to work with colloquial vocabulary as soon as possible.
After playing with Ling for a year, I deleted the mobile app. 
But I'm still focused on Indian languages, and for a long while, I've wanted to improve my ear for Marathi. While many words and phrases transfer over from Hindi, the different pronunciation and grammar rules make it challenging. And there are fewer resources for Marathi than for Bengali. 
The fact is that Ling App is one of the few resources that target less commonly learned languages. But is it worth your time? After revisiting and using the app seriously, here's a full Ling App Review, the good and the bad.
What is Ling App?
Ling App is run by Simya Solutions, a software company based in Thailand. So it shouldn't be surprising that Ling offers a robust selection of Asian languages to work with. 
The company and mobile app have their origins with Simon Bacher, a German expat in Thailand. When he first arrived in the country back in 2017, he needed to learn the language. But quality Thai resources were few and far between. 
The answer Simon found was to develop a mobile app that included mini-games, native audio, transliterations for non-Latin scripts, and mock conversations.
This language learning app is available in the Google Play Store and the Apple Store.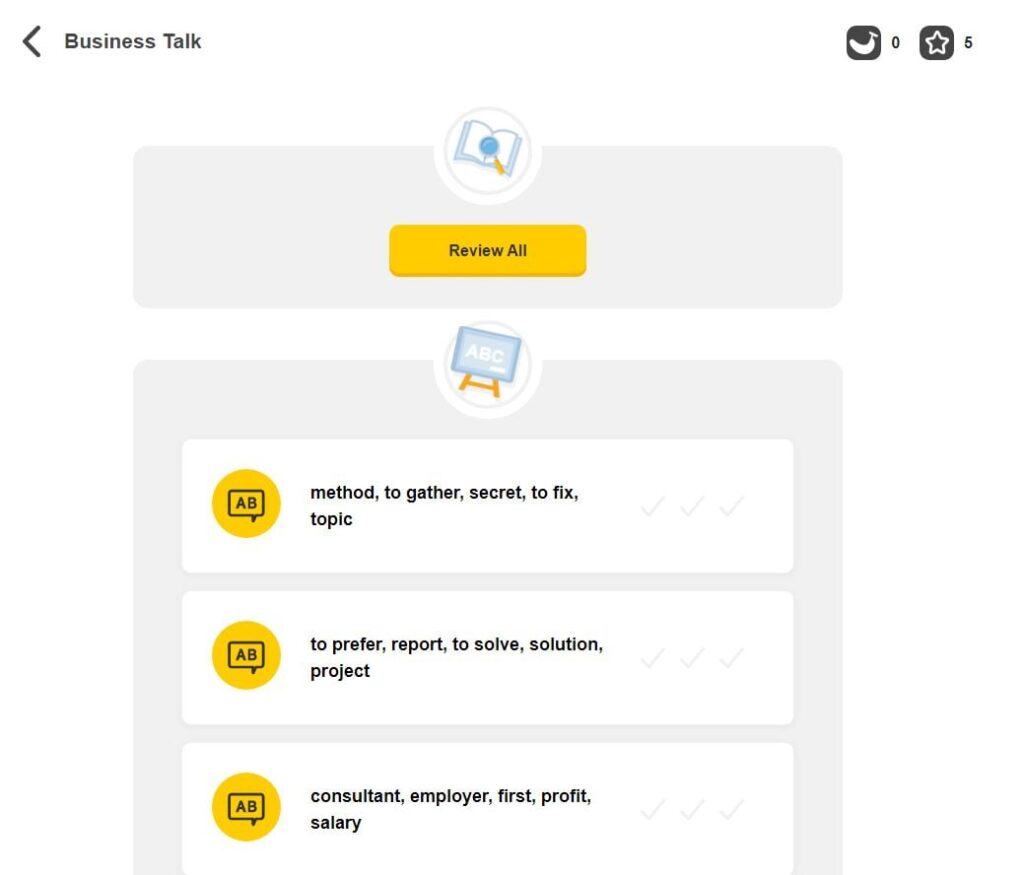 What Languages Can You Learn on Ling App?
Today, you can learn 60 languages on Ling, including:
Ling App Languages
| | | | | | |
| --- | --- | --- | --- | --- | --- |
| Afrikaans | Croatian | Greek | Korean | Persian | Swahili |
| Albanian | Czech | Hebrew | Lao | Polish | Swedish |
| Arabic (MSA) | Danish | Hindi | Latvian | Portuguese | Tagalog |
| Armenian | Dutch | Hungarian | Lithuanian | Punjabi | Tamil |
| Bengali | Estonian | Indonesian | Malayalam | Romanian | Telugu |
| Bosnian | English | Irish | Malaysian | Russian | Thai |
| Bulgarian | Finnish | Italian | Marathi | Serbian | Turkish |
| Burmese | French | Japanese | Mongolian | Slovak | Ukrainian |
| Cantonese | Georgian | Kannada | Nepali | Slovenian | Urdu |
| Chinese/Mandarin | German | Khmer | Norwegian | Spanish | Vietnamese |
What is the Quality of Ling's Language Courses?
Generally speaking, the quality is consistent and fairly good as a learning supplement. Let's start the meat of this Ling App review by looking at the structure.
Content for each language is divided into five levels:
Beginner
Intermediate
Upper-Intermediate
Advanced
Expert
There are about ten modules in each level. And within each module are six groups of activities. Four groups introduced a handful of new words based on the overall module's theme. The fifth activity is a speaking section, and the final task is an "exam," which takes prompts from the first four groups.
Overall, there are 200 lessons and 50 units. If you approximate about five new words per lesson, that's 1000 core vocabulary words. This could be higher when you consider that many function words are not included in the "new word" count.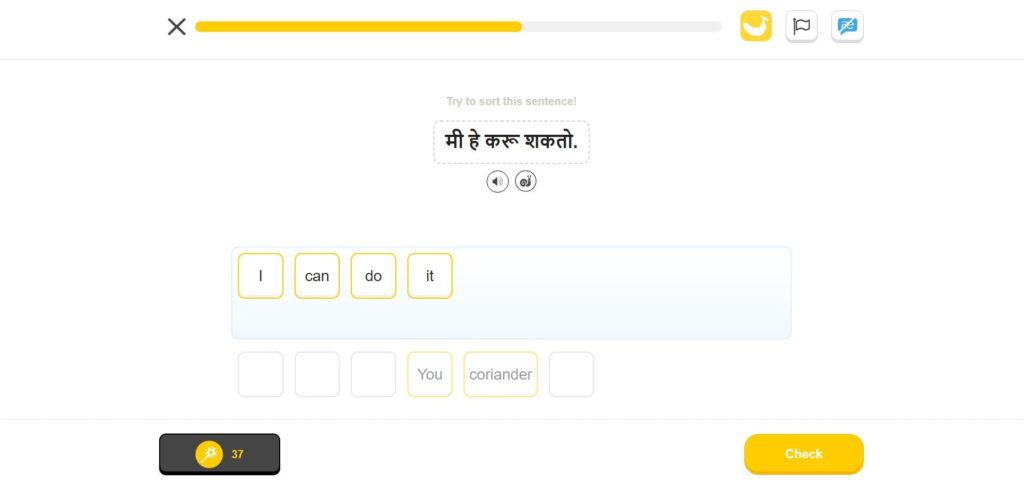 However, I want to stress that Ling is not for an absolute beginner. There are no alphabet learning modules. While you can use transliteration, it helps to already know your target language's script. 
On the flip side, the app does feature native speakers. And it's chatbot feature is helpful for using vocabulary in context.
Overall, I feel it's a quality app. I've rarely experienced glitches, and you can access the app from the web or your phone. 
What's Nice About Ling
First off, the fact that this app takes time to invest in lesser-learned languages is fantastic. Most people "follow the money" to Spanish, German, and French. This alone puts Ling in my good books.
But there are also other pros:
Conversation modules
Native speaker audio in male and female voices
Relevant vocabulary
Balanced gamification
Review modules
A speaking module that encourages you to actually use the language out loud 
Decent price point (more on that later)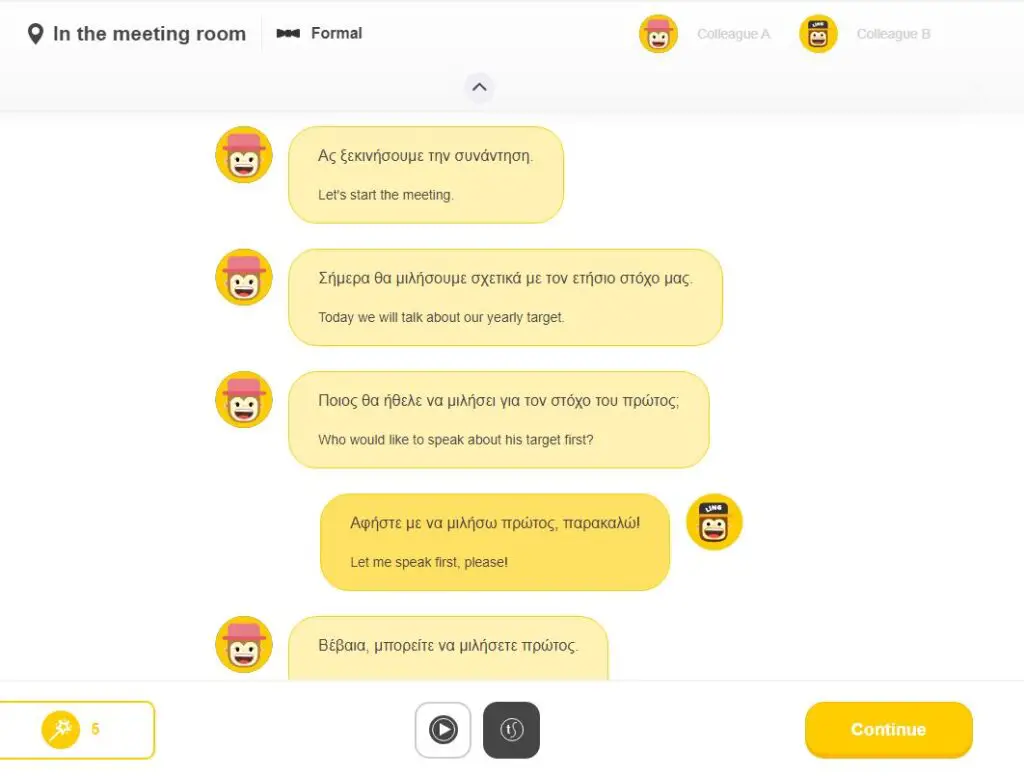 What Could Be Improved
There are a few things that could take the app to the next level:
More informal dialogues. Most conversations are geared toward formal conversation.
Alphabet modules for absolute beginners
Grammar tips within the app
A separate vocabulary list for each module to quickly pinpoint words
Overall, Ling is a mobile app focused on core vocab. You won't find a wide range of vocabulary, but the interactive games are interesting enough, and the quizzes are a good review.
How Much Does Ling Cost and Is It Worth It? 
There are four ways you can use Ling:
The free plan with only the intro lessons
The monthly $8.99 subscription
The annual subscription of $54.99 a year ($4.58 per month)
The lifetime $149.99 plan
If you only need Ling for one language, I recommend using the yearly plan. Ling is a supplement to your primary learning, and so you may decide to learn one lesson a day. This translates into seven months without time spent on reviews or breaks. 
However, the lifetime plan is worth it if you have several languages lined up or like to dabble. You don't have to worry about subscribing. As long as you're learning three languages or more, you make your money back. 
Alternatives to Ling
There may be language or region-specific apps that have your target language. 
I tried using Curry Lang for a hot minute, but glitches and slow team response wore me down.
Memrise offers some vocabulary decks, but they often lack audio. And to be honest, I get bored with flashcard apps. I need more variation. 
Otherwise, Ling has a similar setup to Mondly or Mango languages. While its language course offerings aren't as strong as Duolingo's, the cognitive load is fairly balanced.
It's important to remember that no one app will teach you a language. But different tools can help you progress further.
What to Use with Ling
Ling shouldn't be used in isolation. Ideally, you'll want a grammar book or textbook with audio. Ling works as a refresher or to help you gain more exposure to language at the beginner level. 
For example, if I were to set Marathi as my primary language, I would combine Ling with:
My Ling App Review in a Nutshell
If you want to learn a new language, particularly one from Asia, this is the language learning app for you. While it doesn't cater to an advanced learner or an absolute beginner, Ling is a great supplement for those at the A1-A2 level. You can boost your listening and reading comprehension skills through example sentences, relevant phrases, and quizzes.
Ling isn't a complete language course. But it does provide an interesting way to activate knowledge you learn in class or through a textbook. And if you enjoy learning several different languages, the lifetime deal might be right for you.
If you still have questions after this Ling App review, let me know in the comments. ☺