Let me be frank: It took me some time to get on the LingQ bandwagon. So you'll find in this LingQ review that learning to love this app was a journey.
I love to read, but when I first tried LingQ six or seven years ago…I wasn't thrilled. Sure, it was the free version, and that was part of the problem. The free version is incredibly limiting. By the end, you've got a handle on the software, you hit your limit.
So I tried ReadLang. In reality, I loved the simple ReadLang interface. But I couldn't use it on my phone, and even though its language options were far more robust, I needed to pair it with a separate text-to-speech app for pronunciation and audio practice. Ultimately, as my workload increased, the number of steps it took to get value out of my makeshift setup became unsustainable.
Eventually, I decided to give LingQ a second shot, and I tried the premium version. And I fell in love with the platform, with all its kinks and glitches.
But the LingQ of today, LingQ 5.0, is entirely different – and frankly, better than the older version.
Here is my entirely honest (but yes, mostly positive) LingQ review. I'll try to give you the best and worst of the platform, so you can determine if it's right for your language learning journey.
A Note: The New LingQ
First off, I'll be focusing on the pros and cons of LingQ 5.0, the latest update to the platform. And let me be clear, the jump between LingQ 4.0 and 5.0 is HUGE. Many core details have been altered, and I feel it's a step in the right direction. In fact, if you used LingQ before 2022, you would find a completely different application.
The 5.0 interface is just easier to use. Adding customized courses is so much easier, and listing now gives points is incredibly useful.
I'll point out 5.0 specific features throughout the review, but some of the top updates are:
Entirely new interface
Different reading and listening modes
Get lingqs for listening
More content
More customization options
LingQ Reader at a Glance
Okay, first, what is LingQ? The LingQ reader is a web and mobile platform that seeks to help language learners improve their reading and listening comprehension skills. The founder of LingQ, Steve Kaufmann, follows Stephen Krashen's school of thought on language learning, in that an efficient language program focuses on input through reading and listening.
The general thought is that if learners focus on building vocabulary in context, they will learn faster and enjoy the process. And, to be honest, I agree.
Nothing is more stressful than listening to your native speaker friend chatter on so quickly that you can't figure out how to respond. Likewise, I often want to comment on a topic in German or Hindi, but I lack the vocabulary to do so.
Contextual input, such as learning with texts or movies, makes it easier for us as learners to digest and remember words. We can also internalize grammar through repetition without the same boredom that tags alongside workbook drills.
Like most language learning apps, LingQ offers a spaced repetition flashcard system to review vocabulary, but the real steal is on the highly customized individual lessons.
How many languages does LingQ offer?
According to the LingQ platform, you can learn 42 languages with the app. This is probably the biggest issue with LingQ – the lack of languages. The LingQ team depends almost entirely on volunteers to add a new language. This, of course, is the launch of a new language unpredictable. The lack of certain languages is one of the reasons I initially decided not to invest in LingQ.
Currently, LingQ supports:
Arabic
Armenian
Belarussian
Bulgarian
Cantonese
Catalan
Croatian
Czech
Danish
Dutch
English
Esperanto
Finnish
French
German
Gujarati
Hebrew
Hungarian
Icelandic
Indonesian
Malay
Italian
Korean
Latin
Mandarin Chinese
Norwegian
Persian
Polish
Portuguese
Romanian
Russian
Serian
Slovak
Swedish
Turkish
Ukrainian
How much does LingQ premium cost?
LingQ has two tiers – premium and premium plus, each with multiple payment plans.
The Premium pricing is:
1 month – $12.99/per month
6 months – $11.99/per month
12 months -$8.99 per month
24 months – $7.99 per month
Premium Plus includes points that can be used for tutoring, writing correction, and additional lessons. The Premium Plus pricing is as follows:
1 month – $39.99/per month
6 months – $38.99/per month
12 months – $35.99/per month
12 months- $34.99/per month
For most users, I believe that the 12-month premium plan is enough. Since I use iTalki for tutoring, I don't have a need to invest in the Premium Plus plan.
Multiple languages or just one?
You can learn as many languages as possible on LingQ with a single premium subscription. This is one of the reasons I chose to give LingQ a second go. While I have a primary language I focus on, I do want to maintain or review vocabulary for other target languages. Since many of the languages I want to study (although not all) are on LingQ, it made sense to try out the platform.
Key LingQ Functionality
LingQ offers several features and can be integrated with YouTube and Netflix. LingQ is entirely built around customization, so there can be a bit of a learning curve. There's just so much for a language learner to do, so many options of how they can build their learning schedule around the platform.
So let's break down the app.
Target language dashboard
First, let's review what you will see when you log in.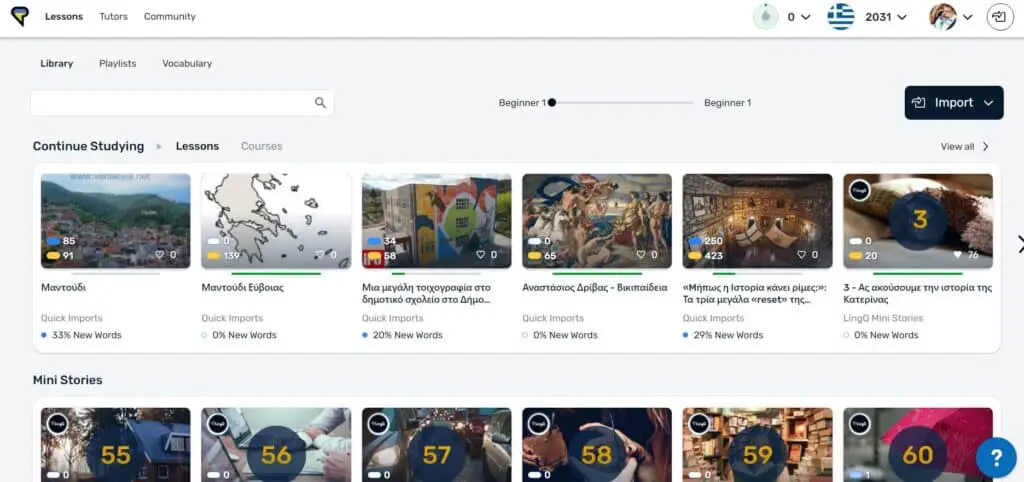 Your initial dashboard will show your current language settings. I'm learning six languages on LingQ, but my most recent session was in Greek, so when I open the app, I will see Greek.
The top navigation allows you to access your lessons, search for tutors, or scan the forums. Beneath this navigation, you can browse through lessons or courses, review audio playlists, or review vocabulary with flashcards.
You can sort your dashboards to show either individual lessons or courses, and you can also change the level.
There's a button to import content, which I'll cover a bit later.
The mobile LingQ app, of course, is more condensed, but all of the same features are available on your phone.
I'd say it's important here for a language learner to decide how they plan to spend most of their time on LingQ. I usually dislike flashcard apps, so I don't use the vocabulary section much. I enjoy having a separate playlist option, and of course, you can create your own.
LingQ lesson layout options
Once you select a lesson, you, of course, have more options. There are three types of words or phrases:
A blue word is a new vocabulary word. You've never encountered it.
A yellow word is a word you are learning. The lighter the shade of yellow, the closer you are to mastery.
A word without a highlight is a known word.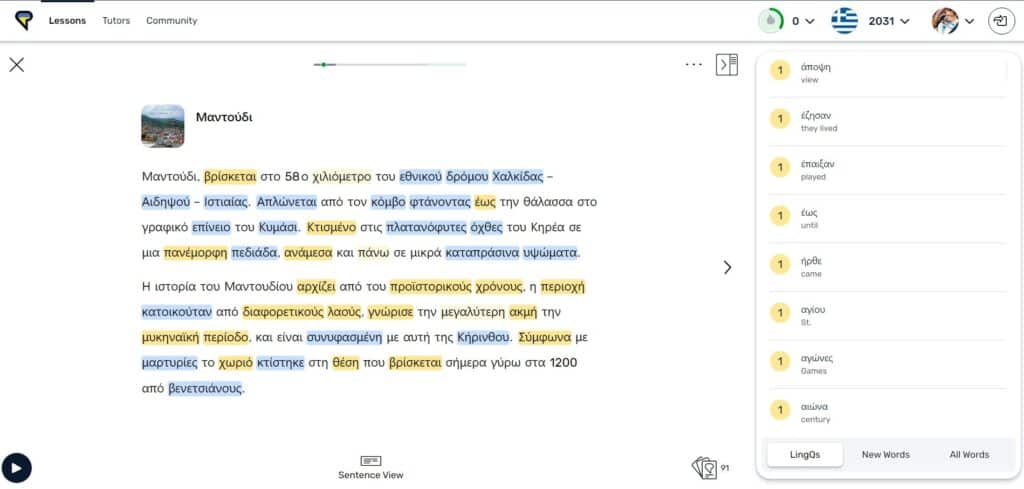 When using the web app for a LingQ lesson, a navigation panel on the right side of the screen shows you LingQs, Known Words, and All Words. I generally ignore this panel, but there are many useful icons:
Sentence view, usually shown in the center, lets you see one sentence at a time. This is a new 5.0 feature, and I love it, to be honest. It helps me focus and stay in the moment.
On the right side of the screen, there is a flashcard icon. This lets you review LingQs for a specific page or lesson. I love this a lot because it helps me refine what words I want to learn versus the general flashcard pile. Plus, reading the content and then focusing on vocabulary-building activities makes it stick faster.
Generate lesson audio allows you to add Google-generated audio to any LingQ lesson. This is also a new feature, and it's AMAZING. I read a ton, and there is rarely audio. So this is ideal for most languages. The one exception would be variants of Arabic. For this, I highly recommend working with Lingualism materials and importing them into LingQ.
The ellipses (…) give you even more options, including downloading the audio and printing the lesson.
You can also change your reading settings, which are found under the ellipses button. Reader settings include:
Font size
Font style
Page width
Line spacing
Highlighting settings
Widgets and sidebar settings
Text-to-speech options
The robust customization scheme makes the program so much easier on the eyes, especially if you decide to learn Japanese with the program. The furigana reading aid in the Japanese lessons is incredibly helpful when picking up new Kanji, and being able to adjust page settings just makes it all the more readable. Likewise, Mandarin Chinese has a pinyin option.
Analytics and streaks
One of the top reasons I still use LingQ is the analytics. Streaks aren't so important, but being able to see how many words I've covered is incredibly motivational for me. This is especially true in languages like German, where I've hit the upper intermediate plateau.
Streaks are simple. Your daily goal and streak are defined by how many coins you earn in a day. Coins can be earned by:
Creating LingQs
Increasing the status of a LingQ or new word. You do this when you change the yellow highlight of the word to show that you've progressed in learning the word.
Adding known words.
Reading and rereading a lesson on the LingQ app.
Listening on the app.
In the older versions of LingQ, only the first read-through was tracked, and there were fewer opportunities to earn points. This version incentivizes you to revisit individual lessons and work on listening comprehension.
There is a streak indicator, which you can see on the main version 5.0 walkthrough.
Content – The sky is the limit
I import a lot of historical reading from the web, but I also use the mini-stories. The 60 mini-stories are unique to LingQ and use native speaker recordings. While a bit boring, a mini-story lesson revolves around basic, everyday vocabulary and includes a brief question and answer segment at the end of each story.
You can also import materials from PDFs or any website, either by copying and pasting the content or using the Google Chrome extension. You can also import:
YouTube videos with a closed caption in your target language
Netflix moves and series with target language subtitles
Ebooks
Articles
Individual vocabulary terms
I used to find it incredibly difficult to create lessons and often ended up creating duplicate courses. Version 5.0 of LingQ made it so much easier to import lessons from PDFs. For example, I'll sometimes just copy and paste chapters from a PDF, choose the course, and attach the audio. Viola, I'm done! It takes minutes, and it is so much more intuitive.
Really, it has everything.
The Main Benefit: Flexible Vocabulary Building
This language app has one premise: Vocabulary building. I haven't used the tutoring system at all, but I find that the app alone is well worth the premium price. The amount of passive and active input I can achieve on this application is incredible and incredibly convenient. And, to be frank, I have completely bought into the methodology. It works for me. The more I see and interact with an unknown word in context, the more likely I remember it.
I've even enjoyed using it for learning Levantine Arabic. While the Arabic dictionaries aren't always on-point, I can add correct definitions from my PDF reader. But I enjoy being able to improve my listening comprehension by reading alone. Having studied Modern Standard Arabic in college, I still struggle with Levantine pronunciation, but this method is extremely effective.
You can, of course, go a step further and use the LingQ app as a base, a jumpstart to practice speaking or writing. Or you can write your opinions of a news article using the same vocabulary or summarize a chapter of a novel. In addition, you can read out loud to improve pronunciation or consider describing the text after finishing a lesson.
Learning with texts is a versatile way to learn a foreign language, and I think LingQ functionality not only makes it more efficient but enjoyable.
Is LingQ for Beginners?
This is a hard question. And I'd say it depends.
Generally, I find LingQ is best at an A2 level and above. However, I have played around with the Turkish levels by importing course material into the program. I think using LingQ in conjunction with a coursebook and the mini-stories could accelerate your learning, even at a lower level.
I stick with LingQ because it offers advanced learners just as much as intermediate and beginners. There are always new words to learn, and as someone who enjoys dabbling in multiple languages at multiple levels, the program just works.
What to Use with the LingQ Reader
What to use with LingQ depends on your level and language. Outside the program, I'd keep a grammar book or website for reference. However, I've succeeded in using news articles, ebooks, poems, song lyrics, youtube videos about the language or other topics, and course materials.
You can use anything. The key to not getting lost with this platform is understanding yourself as a language learner and creating a realistic language learning plan.
How I Use LingQ
Currently, I have seven languages saved on LingQ:
Modern Greek
German
Japanese
Russian
Spanish
Arabic
Turkish
When writing this review, I'm focusing on Modern Greek and Japanese. While Hindi and Bangla are used in my immediate environment, I'm completely burnt out. 
With LingQ, I maintain my German levels and explore new topics with LingQ, and I try to keep my Russian up-to-date. When I have a more solid grasp of Greek, in that I can confidently speak and write my way around vocabulary gaps, I'll amp up the Arabic and Spanish. Turkish, so far, has been an experiment, but I would like to pursue it more seriously in the future.
I read a ton and often create courses of articles on the same topic to ensure I hit the same vocabulary regularly. I also try to commit to the mini-stories, especially in my primary languages.
The top features I use are:
The sentence view reader
Lesson-specific flashcards
Lesson playlist for listening comprehension
In addition to LingQ, I use grammar exercise books and textbooks for my languages. But I also use other apps.
For example, for Modern Greek, I use Duolingo and Rosetta Stone language courses to foster general vocabulary and beginner reading skills. These two platforms "build" on each other, reflecting similar phrases and vocabulary in different prompts. Once I finish with both apps, I will review and consolidate my knowledge with a general textbook.
Combined with LingQ, I am tapping into a reservoir of vocabulary terms and gradually improving my listening comprehension. To best improve speaking, I've learned, it helps to improve listening skills. Comfort in recognizing words in conversation makes it easier to work around gaps in knowledge.
LingQ Review in a Nutshell
I love LingQ. That's pretty much it. If you enjoy dabbling or even seriously learning multiple languages, and you love reading or listening, LingQ premium is a safe bet. It takes some time to get used to the unstructured appearance of the website, but its flexibility makes it easy to combine with just about any other language learning activity. 
So if you want to learn a language with LingQ, I highly recommend it.