Whether you're a hippy at heart, a trekker, or history aficionado, there is something for you in Kathmandu. While backpackers and mountain climbers are the norm, there's no reason the less athletic of us can't enjoy this ancient Nepalese city.
But what can you do as a family of four? Is it safe? Is there Uber or public transit?
In this essential guide to Kathmandu, you'll learn how to hit the ground running on arrival.
All photos courtesy of Deb Banerjee.
Where to Stay in Kathmandu
Kathmandu's Airport, nestled among the mountains, reminds me of shuffling to and from class with its simple red brick design. From the tarmac, the Himalayas are welcoming, shrouded in a light veil of fog.
The best time to go is right after the high season, in mid-January. There's no rain, and the skies are mostly clear. But you get those discount prices.
$$$: If you flew in from New York, it's likely you spent between $800-$1000 for the flight. Your tourist visa will cost $15, and you must pay in USD or another major currency. Nepali rupees (NPR) or Indian rupees (INR) are not accepted.
When you pass final inspections at the quaint but orderly airport, you'll be ready to venture into the city via Taxi. As of 2019, you won't find Uber or Ola, so prepare to hail a cab the old-fashioned way – via the travel desk.
Depending on how far into the city your hotel is, you will be looking at around 500 NRP, a paltry sum of $4.40. But if he does charge more, don't sweat it. You've already paid for the most expensive leg of the journey – the roundtrip plane ticket.
As you make your way towards your hotel, you'll notice that unlike other capitals, most of the buildings in Kathmandu are short. There are no high-rises. And it makes sense. After all, it is an earthquake-prone region.
When you cross each intersection, you will notice the blank traffic light overhead, and the officer beneath it, directing traffic. Most intersections employee traffic guards, to ward of high unemployment numbers.
You'll find a hotel for every budget in Kathmandu, from the budget-friendly avenue of Thamel to the luxury 5-star suites in the historic districts. You'll find everything there, from trekking equipment, exquisite local jewelry to groovy hippie-style clothing and tangra paintings.
Hotels for Your Budget:
$ Shantipur Kathmandu Hotel – This hostel can be found on popular booking sites. Located near Thamel, it's an ideal budget rest stop for students and budget travelers.
$$ Hotel Shanker – A refurbished palace close to Thamel and the Garden of Dreams, with an excellent restaurant, bar, and spa. Perfect for families.
$$$ Dwarika Hotel – A luxurious getaway designed to take you back to 15th-17th century Nepal. This is perfect for anyone who wants to splurge.
Eating: It's More Than Daal-Bhat
When you finally reach your hotel, you'll be hungry. We were.
At 5:00 pm, we took an early dinner at our hotel but strayed from the much-loved daal-bhaat. After having lived in India for several years, we were well-acquainted with the lentils and rice platter. Instead, we struck gold with the Nepali-Chinese cuisine at our hotel, which was fresh and rich.
Because of the high influx of tourists, you'll find everything from German craft beer to Japanese delicacies, to traditional plates.
If you want healthy and affordable food, stay away from the American and European imports and focus on the Nepali, Indian, and Chinese selections. Your taste buds and your wallet will thank you. This goes for drinks, too. In particular, we enjoyed the Gurkha and Everest beers, which are light by western standards but have a clean aftertaste.
You'll find "fast-food" eateries at most tourist attractions and in Thamel, allowing you to stay nourished while getting the most out of your experience. There's really nothing like eating momos outside Boudnath Temple, watching the Buddhist devotees make their daily rounds.
But if you aren't eating at your hotel, it's best to finish by 8 PM – almost everything closes by 9 PM.
$: I'd average about $15 dollars a day per person for food, especially if you've got a free breakfast. We tended to skip lunch as well, but ate a heavy dinner. You may actually be spending only $5-$7 dollars per day.
The High Points of Kathmandu
Ask your tour guide, and you'll find that the city is actually the combination of three ancient districts, bordered by the mountains. Given the capital's history and location, you have many options for sightseeing – from museums to hikes. Given the favorable currency exchange, it may even become your favorite place to shop. In other words – there's something for everyone.
The Three Squares
Durbar, Pathan, and Bhakatarpur Squares are the main historical sites of Kathmandu. You will find an array of small museums in Pathan and Bhaktapur, while Durbar was largely affected by the 2015 earthquake and is still under reconstruction.
Bhaktapur is known as the cultural center of ancient Kathmandu, and appropriately carries a higher price tag for visiting – 1500 NPR at the time of writing. It also has an array of gift shops, which offer lenient deals during tourist season.
But in all three locations, from the palaces to common households, you'll notice the trademark Newari windows, made of meticulously carved wood. Our tour guide told us a great story about these windows: They are heirlooms. When a family moves, they most likely will take their ornate windows with them.
Buddhist Heritage
Nepal is renowned as a Buddhist pilgrimage site, and Kathmandu has its own share of breath-taking landmarks.
Boudhanath Stupa is an ideal place to visit, and it's fairly close to the city center. A stupa is a religious site that holds sacred relics, and you'll find people walking in circles and praying around the Stupa. As it's a circular structure, you'll find an outer-circle of shops, restaurants, and monasteries surrounding it. You could easily spend a whole day exploring the cobblestoned area, and perhaps you should. In our opinion, it also provided better deals than other tourist shops. If you want to get your shopping done, do it near Boudhanath!
In contrast to the flat walk of Boudhanath, Monkey Temple is located at the top of a steep hill. While you can drive to the visitor's center near the summit, there are quite a few steps and can be difficult to navigate, especially in the rain.
However, the Monkey Temple offers breathtaking views and traditional pagoda architecture. You may even find families conducting worship. And of course, you will definitely see a few monkeys lingering about.
Near the edge of the inner city, you'll find Kopan monastery. As of 2019, the road was rough but well worth it. Located on the rim of the valley, Kopan Monastery is a true retreat from the city. While still technically in the city, you will find fresh mountain air, a quiet courtyard with a robust library and elegant temples and gardens.
Once you visit the monastery, you may want to sign up for a class. For budget or solo-travelers, they offer lodging and courses on Buddhism. It's definitely worth a look!
Southeast Asian Hindus Only
One popular site is Pashupatinath Temple, an enchanting complex dedicated to Shiva. If you aren't from Southeast Asia (or look Southeast Asian), I wouldn't recommend visiting. First, it costs 1000 INR to enter the premises. But even if you are Hindu, you won't be able to get past the front gate unless you look Indian or Nepali. While not all Nepalis agree with this rule, the property owners believe it that the site must remain "pure".
For Indian travelers, go on ahead and enjoy.
Getting Creative in Kathmandu
There are many ways to further tour the city on your own time. You can try a biking tour, which will take you to the main destinations or outside the city to visit nearby villages.
One popular destination is Nagarkot, a village located north-east of Bhaktapur on a small mountain. On the summit is a hotel called Club Himalaya, where you can get a 360 view of the Himalayas while drinking tea.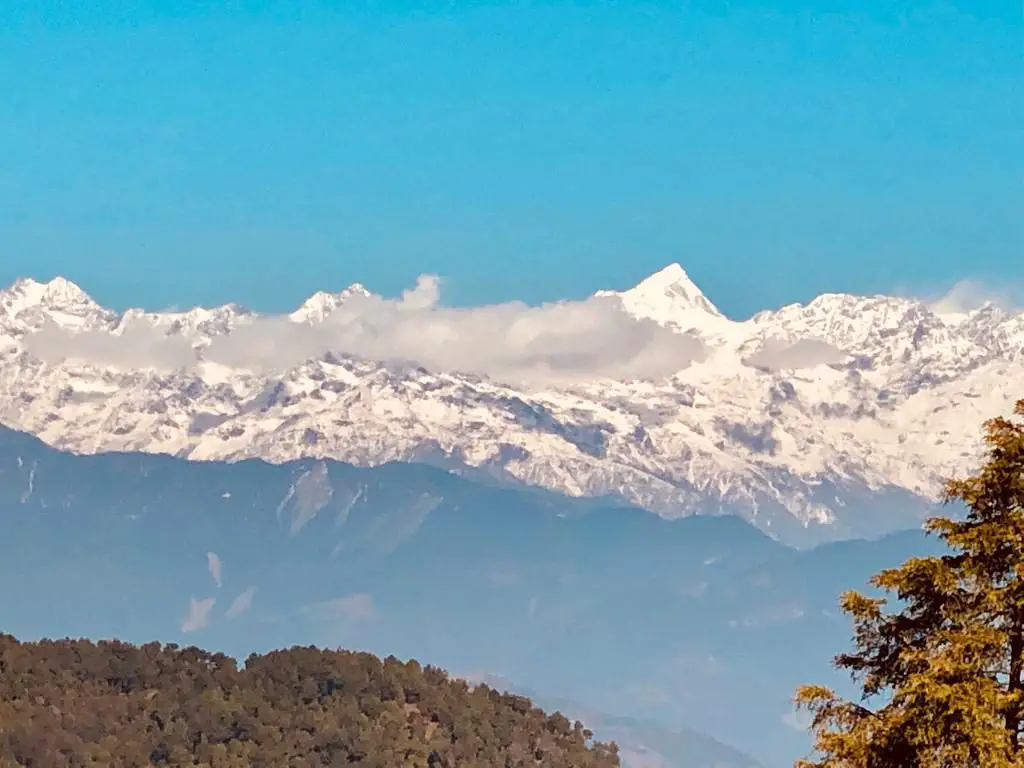 $: Budget about $50 for each person's entry fee. It actually comes down to about $43 for the sites listed here, but it never hurts to have some extra padding. Expect to spend about $100 per day for a high-quality tour guide. This should include transportation.  You can get all the updated entry fees here.
Traveling with Family
While Nepal is known for its adventure-seeking trekkers and the steep cliff-faces of the Himalayas, Kathmandu can be synonymous with family-friendly vacations. Many areas like Boudhanath and the three squares are fairly accessible and easy to tour with elderly family members and children.
It is also fairly affordable, as the cost of living in the city is drastically low compared to Europe, and it's fairly safe. This is especially true of the off-season, as you'll find deals on both hotels and tourist goods.
As a family of four, you can expect to spend around $3500-$5000 for an 8-day luxurious vacation immersed in history, architecture, nature, and healthy food. The cost drops substantially if you're a budget or solo traveler.