Chinese-inspired fantasy is more than an escapist's paradise. As far as fantasy books go, this subgenre provides a wealth of adventures and whirlwind romances. While some delve deep into Chinese history, others create entirely new worlds or explore folklore in a modern-day setting.
While many of the options today appeal to young readers and YA fanbase, there are plenty of adult fiction books, too. And yes, while The Poppy War is on this list (it's amazing, so of course, it would be), it's not the only historical fantasy piece on the list.
To make this list, I considered novels that drew from Chinese-specific folklore, history, and fantasy elements. Many avid watchers of C- or K-dramas will probably enjoy these fantasy books. But I do want to point out that while there are many, MANY other amazing authors across East Asia, this list doesn't include Japanese or Korean works.
A very brief intro to Chinese fantasy
Chinse-inspired fantasy comes wrapped in its own terminology, tropes, and techniques. Generally, readers can expect to come across multiple realms, martial arts, qi, immortals, gods, saints, demons, ghosts, cultivation, ranks, and many other cultural-specific ideas. And while not every fantasy novel will include every single concept, you're likely to run into them fairly frequently.
There are also three main narrative divisions:
Wuxia – In these stories, the hero normally achieves unearthly fighting abilities, usually through martial arts and cultivating qi.
Xianxia – This genre focuses more on folklore and mythology. It's common to see immortals, ghosts, demons, devils, and other supernatural beings.
Xuanhuan – In this case, the story may incorporate broad Chinese-inspired tropes and trends with a foreign setting.
There are many additional subgenres, which we don't get into here. But given the popularity of Chinese webcomics, Immortal Mountain has created an extensive list of Chinese web novel categories.
12 Chinese-Inspired Fantasy Books You need to read
Looking for your next favorite? We have you covered. There is a book for everyone from ancient Chinese-inspired historical settings to folklore in San Francisco and 1920s Shanghai.
1. Phoenix Chosen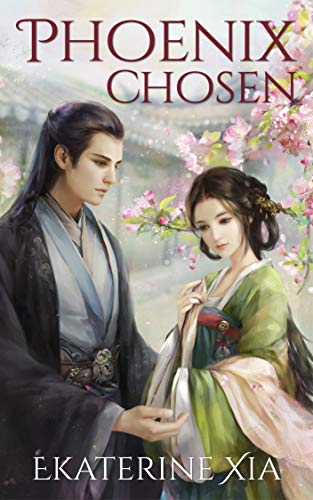 As number one on the list, Ekaterine Xia's first book in her Phoenix series, Phoenix Chosen, delivers the key elements of any addicting Chinese drama: Court intrigue in a Tang dynasty setting, an unknown family, a mysterious prince, and magic. Estyria believed she was a normal young woman from Earth – until a spell saves her life and transports her to Tavaneth. Caught in competition for the throne, Estryia finds her fate intertwined with two men who are equally as reliant on her decisions. Phoenix Chosen is the first in a series of elegantly written and vibrant Chinese-inspired fantasy romances.
2. Iron Widow
What if you had mecha battles, aliens, dynamic power struggles, and Chinese history? Then you'd have the stellar YA science fiction novel Iron Widow. In this edge-of-your-seat narrative, writer Xiran Jay Zhao pens a ferocious, action-packed hit that takes on patriarchy. The protagonist, strong-willed Zetian begins a journey to avenge her sister's death, only to be in a position to change the course of history for women in Huaxia.
3. The Poppy War
R. F. Kuang's The Poppy War trilogy offers an intense historical epic that revolves around the peasant military prodigy, Rin. After winning entry into the most prestigious military school, Rin must navigate a hostile environment while learning to master a hidden power. All while, in the background, a war lurks. Influenced by true events in the Sino-Japanese War, this series is a hard-hitting, emotional rollercoaster. But it's well worth the ride.
4. Spin the Dawn
Another YA favorite, Spin the Dawn is the first of Elizabeth Lim's The Blood of the Stars series. Young Maia Tamarin poses as her brother in order to train and become the imperial tailor. But to succeed, she will need to sew three dresses, out of the laughter of the sun, the tears of the moon, and the blood of stars. Together with the enchanter Edan, she journeys across the sprawling landscape of A'landi.
5. Descendant of the Crane
Joan He's Descendant of the Crane follows princess Hesina of Yan as she attempts to pull together the pieces of her father's murder. This Chinese-inspired fantasy is a lush and fast-paced drama in a narrative of intricate court politics, surprise twists, and moral ambiguity. And as a gorgeous piece of fantasy fiction, it's a must-have for your to-read list.
6. The Ghost Bride
The Ghost Bride by Yangsze Choo takes readers to the Chinese world of the dead as Li Lan receives a proposal to marry the Lim family's recently deceased son. With the lack of other suitable prospects, Li Lan decides to agree to become a ghost bride, only to find herself haunted by her suitor. And it isn't long until she realizes that there are many dark secrets hidden in both the Lim family and her own.
7. The Epic Crush of Genie Lo
Another stellar YA Chinese-inspired fantasy series, Y.C. Lee's The Epic Crush of Genie Lo begins with college admissions. Drawing from Chinese folklore, Genie Lo discovers she is a celestial being. When Quentin, a Chinese exchange student, shows up claiming to be the Monkey King and that she is the reincarnation of his staff, Genie's sure that he has a few screws loose. But after a demon shows up, the origin of her powers seems less far-fetched.
8. Daughter of the Moon Goddess
In the first of Sue Lynn Tan's Celestial Kingdom series, Xingyin seeks to save her mother, even if it means fighting against a powerful immortal. Daughter of the Moon Goddess is an enchanting quest in a vast, carefully-crafted world that relies heavily on ancient Chinese myth and folklore. Between the romance, court intrigue, and betrayal is an intense page-turner.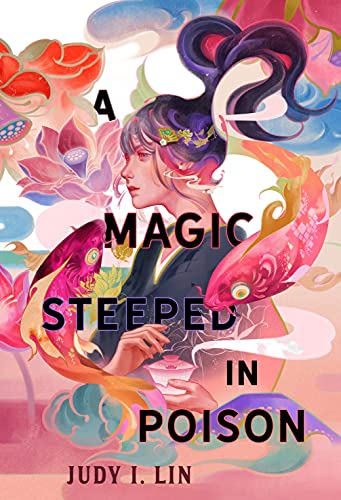 9. A Magic Steeped in Poison
Penned by Judy I. Lin, A Magic Steeped in Poison is the first in The Book of Tea duology. To save her sister's life, Ning seeks to win the title shennong-shi, to become a master of the art of tea-making. If she succeeds, she will receive a favor from the princess. But the task is easier said than done, despite Ning's skill. This page-turning YA fantasy thriller is perfect if you've already read Iron Widow or These Violent Delights.
10. Heaven Official's Blessing: Tian Guan Ci Fu
Mo Xiang Tong Xiu's Heaven Offical's Blessing is a danmei series that centers around a prince and ghost king. The former crown prince turned godhead Xie Lian is cast out of the heavens. To survive, he collects scraps and hunts troublemaking ghosts and demons. During his investigations, he meets the ghost king, San Lang. And it isn't long until Xie Lian finds himself unraveling secrets of the past.
11. These Violent Delights
Gangsters? Shanghai? Romeo and Juliet retelling? If all of those sound good to you (it does to me, too), then These Violent Delights by Chloe Gong should be at the top of your to-read list. Set in 1926, readers follow the blood feud between two gangs in Shanghai – the Scarlet Gang and White Flowers – through the eyes of their young heirs in this YA novel. But as another more menacing threat starts to surface, the rival gang heirs Juliette and Roma must set aside their differences to stop it.
12. Heaven and Earth: The Art of Arms
For this final recommendation, we move back into the era of historical Chinese fantasy with Heaven and Earth by Yi Ming. After 13 years of peace, the Qin king is once again preparing for conquest. This time he is looking at the North. To combat the threat of war, young Su Chien goes on a journey to find the legendary Warrior Prince of Wei to form an alliance.
13. The Lotus Palace
Okay, so I'm going to preference this by saying I'll read anything by Jeannie Lin. The Lotus Palace Mysteries is a set of historical romances set in the Tang Dynasty, and they are amazing. Seriously, I love her worldbuilding, choice of details, and character development. My favorite is book four in the series, The Hidden Moon, but every book is well worth the read. And if you also enjoy steampunk, you should check out her Gunpowder Chronicles series. You won't be disappointed.