Back when I first started learning languages seriously—starting with German—a relative gifted me the "premium" language learning software of the day: Rosetta Stone. Given my recent enthusiasm for the language and the price tag, it was a big deal.
This was before Babbel, FluentU, and Duolingo.
And, to be honest, I mostly liked it.
The bite-sized lessons made it easy to fit into my schedule. I would do 10-30 minutes in the morning and the same before sleeping. Even if I couldn't get to my PONS textbook or the Deutsche Welle A1-A2 course, I could finish at least one lesson before bed.
Within a year and a half, I had finished all five levels. And, while my grammar was quite clumsy, I was beginning to speak more confidently.
But it's been well over a decade since then, and the platform has evolved. And there are more apps to choose from, too.
That said, it's still a tool I recommend (and you'll see why). Before prepping for this review, I'd recently finished both the Hindi and Greek courses, and I'm going through the Japanese course now. 
Of course, before we do a deep dive, let's review what languages are available on the platform. 
Which Languages Does Rosetta Stone Support?
Rosetta Stone currently supports 25 languages at various levels for individual learners:
Arabic (Modern Standard) — 3 levels
Chinese (Mandarin) — 5 levels
Dutch — 3 levels 
English (American) — 5 levels
English (British) — 5 levels
Farsi (Persian) — 3 levels
French — 5 levels
German — 5 levels
Greek (Modern) — 3 levels
Hebrew — 3 levels
Hindi — 3 levels
Italian — 5 levels
Irish — 3 levels
Japanese — 3 levels
Korean — 3 levels
Latin — 3 levels
Polish — 3 levels
Portuguese (Brazil) — 3 levels
Russian — 5 levels
Spanish (Latin America) — 5 levels
Spanish (Spain) — 5 levels
Swedish — 3 levels
Tagalog (Filipino) — 3 levels
Turkish — 3 levels
Vietnamese — 3 levels
Through the software's Endangered Languages Program, indigenous communities can also tap into courses for languages like:
Kanien'kéha (Mohawk)
Sitimaxa (Chitimacha)
Iñupiaq (Coastal) and Iñupiaq (Kobuk/Selawik)
Iñupiaq (North Slope)
Diné Bizaad (Navajo)
Inuttitut
Objiwe
Breaking Down the Rosetta Stone Method
Every course is broken down into up to 5 levels. A 5-level course has 20 units, and every unit includes 4 chapters with modules on pronunciation, speaking, listening, and reading. Writing modules are optional. Chapters end with a "milestone" lesson meant to simulate a conversation. 
Modules are composed of anywhere from 5-30 exercise pages. Each page includes 2-8 boxes with a word, phrase, or sentence with audio, text, and visual aid. Types of exercise are:
Fill-in-the-blank
Multiple choice
Repeating/guessing the phrase out loud
Writing (optional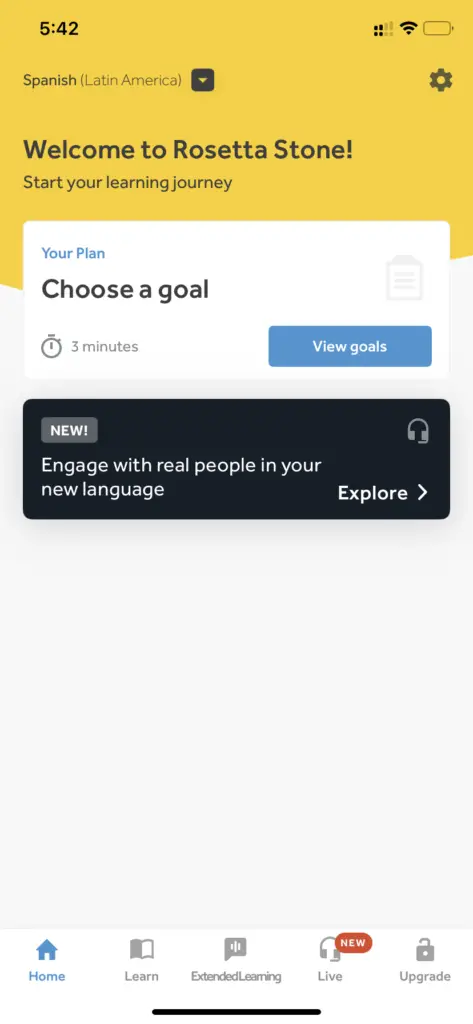 The vocabulary and grammar for each new module will build on what you learned in the last one. By my estimation, by the end of completing a 5-level Rosetta Stone, you should have the grammar and vocabulary foundation for A1-A2, give or take a few concepts.
Don't expect the program to follow your textbook in terms of grammar. For example, in the Japanese course, verbs are introduced with the 〜ている ending, which is used to indicate ongoing or habitual action. This concept is introduced in Genki I, chapter 7—after learning the polite and te-forms.
You also shouldn't count on learning the alphabet. If your target language uses a new script, you'll want to learn that before using the software. 
It's also important to note that Rosetta Stone doesn't use native language translations immediately. You will only get images describing the action, item, or adjective. Historically, Rosetta Stone has taken an "immersion" approach, despite studies highlighting that using a student's native language can improve the learning experience. 
However, in the current version of the software,  you can read a translation if you tap and hold the phrase. 
Pronunciation
One of the main benefits of Rosetta Stone is its speaking and pronunciation modules. To pass these and have a "complete" unit, you need to say phrases out loud. There's no getting around it. 
In the early chapters, words are broken up into syllables to help you better recognize the sounds in the language. If you sort of know the alphabet but haven't mastered it, this can be helpful.
These can be some of the most tedious exercises if you know the vocabulary, though. Luckily, pronunciation modules usually only have about 5 steps or "pages" with 1-4 words each. 
Speaking
Like the pronunciation modules, the speaking exercises ask learners to either repeat or guess words, phrases, and sentences. These can actually get quite lengthy at the higher levels, making it difficult to recall everything perfectly.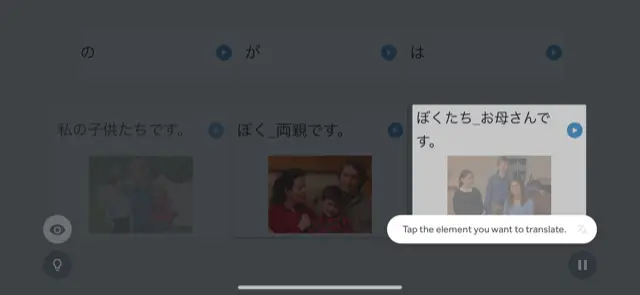 However, as frustrating as these exercises can be, I find them to be one of the best features of the software.
If you want a "passing" or "perfect" score either on a chapter or unit, you'll need to complete the speaking portions. I like the serotonin rush of completing a task, so I feel compelled every time to ensure I get as close to 100% as possible. As a result, I speak more. So by the time I'm crafting my own sentences, it's much easier to get the words out.  
Writing
Writing is an optional module, and unless your native and target languages use the same script, I do not recommend using it. Quite frankly, it can be cumbersome to learn the language and how to type in a new keyboard format at the same time. But if you really want to get that typing practice in—go for it. 
Reading
In the reading-specific module, you won't have audio, just the image and the text. However, you could say that any exercise that includes the text is a reading exercise, too. As someone who is better at reading than listening, these exercises tend to be a breeze. 
Again, you'll only be reading text from your specific unit. These lessons never introduce new phrases so they can get repetitive. And it is limited to understanding the actual flow of the language, as many sentences in a paragraph build on each other. 
That said, this program is primarily for beginners. So the important thing is recognizing the phrases and parsing out meaning from context. 
Listening
Listening exercises may or may not have textual aids, so they can be challenging in the beginning. Typically these will be multiple-choice or fill-in-the-blank. Luckily, you can usually repeat the audio as much as you like.
Grammar
There are grammar modules as well, which use color coding to help learners focus on specific concepts. The problem with this is that while many can intuitively figure out certain concepts in that sentence, it can be difficult for a beginner using only Rosetta Stone to know anything accurately.
Let's look at the Japanese example again. If your first interaction with verb conjugation is the 〜ている ending, how would you be able to guess that it's only for habitual actions versus a one-off event? 
Intuitive learning is great when looking at examples. But in the end, you'll want something more structured and understandable when describing these concepts. 
Beyond Courses 
Over the years, Rosetta Stone has added support materials to give learners more practice—namely with reading and listening. In some language courses, such as Spanish, learners can also take advantage of the phrasebook option.
But how well do they work?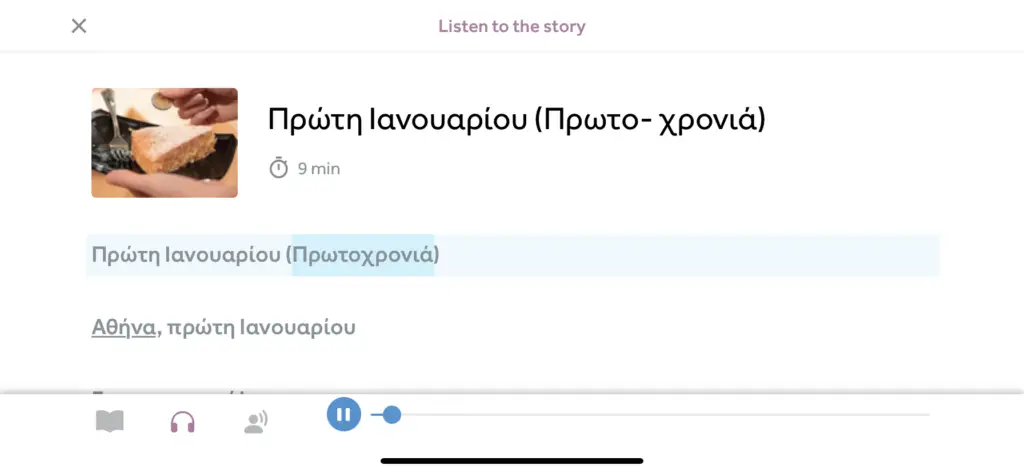 Additional Reading Practice
Again, I like reading, so I find the downloadable stories a great resource for improving both reading and listening skills in context. 
Each unit has at least one associated story, and as you advance through the course, they become more complex. For example, Unit 11: Everyday Things has one story, which is a letter from Maria to her mother. Words you may not know are underlined, and when you click/tap them, a picture appears for context.
In addition to reading the text, you can listen to an audio recording and record yourself reading the story out loud. 
Audio Companion.
The audio companion uses phrases and sentences you learned in a specific unit and asks you to listen and repeat them. If you still need help, the sentences come with a picture and text to help you. It's a good review, but not as helpful as the reading portion.
Live Lessons
Rosetta Stone Live allows you to take group lessons with tutors based on the course material. For more popular languages, such as Spanish or German, you can also take advantage of on-demand language and cultural videos.
This isn't free, however. It's an additional $129.99 subscription price. 
In my opinion, it's often better to skip Live and use those funds for Italki if you want a tutor. 
Is Rosetta Stone Worth the Price?
First, let's lay out the costs. There are three main payment models:
3-months for one language, billed as $35.97
12-months for one language, billed as $143.88
Lifetime for all languages, billed at $299
Optional Live subscription, billed at $129.99 per year
Let me be clear: The first two options are largely useless unless you only want to learn one language and you're an absolute beginner. 
In that case, the 12-month plan makes the most sense, as it can take around a year to complete the entire 5 levels without burning yourself out on the materials.
However, if you want to learn multiple languages (like me), the lifetime plan makes the most sense.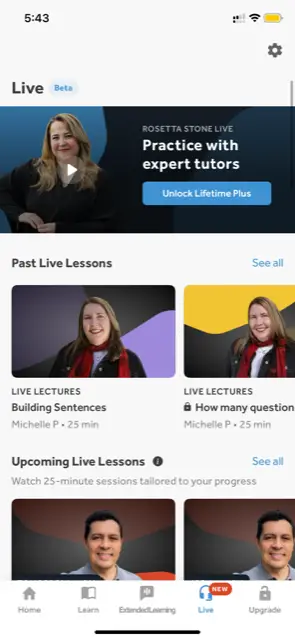 That said, whether it's worth it depends on your style and workflow. Generally, I find it useful as beginner comprehensible input, helping to cement knowledge you are learning through a textbook or another program.
Originally, I used Rosetta Stone for German and did just that. My main material came from Deutsche Welle and PONS, but the software motivated me to speak out loud and review core concepts.
Likewise, I used it with Greek to practice listening and reading, alongside reading on LingQ. And currently, with Japanese, I am using it to reinforce grammar patterns and vocabulary as I work through Genki. 
If you use it strategically as a supplement and pace out the lessons, it becomes less boring and more of a challenge.
Because, at the end of the day, it's a tool. 
Rosetta Stone Alternatives
Most language apps are essentially automated flashcard programs, similar to Rosetta Stone. And few of them are as simple and well-designed as this program. 
That said, it may be that the interface or style just doesn't gel with you. And that's fine because there are plenty of alternatives: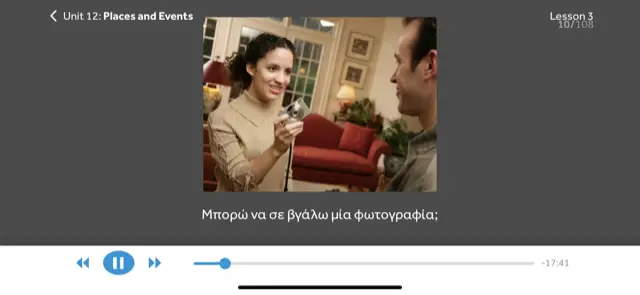 Another high-quality alternative I recommend is Transparent Language, which costs $149.95/annually for one language or $249.95/annually for all of them. However, if you live in the USA, it's possible you could get it for free with a library card. 
What I like about Transparent Language as an alternative to Rosetta Stone, is that it offers a number of hard-to-find languages and language pairs. For example, there is a Somali for Turkish speakers course or Hindi for English speakers.
Outside of these options, I generally think that LingQ is one of the highest-value options for a language learner since it can accommodate you to the B2-C1 level in multiple languages. For languages that Rosetta Stone or Duolingo doesn't cover in Asia, LingApp is a great alternative. And LingoDeer is excellent, as well. 
Key Takeaways from this Rosetta Stone Review
Does Rosetta Stone make sense for your learning journey? Based on my own experience, I think it can be beneficial if used correctly. I would recommend investing in it if:
You're learning one new language and plan to use the 12-month plan
You are learning multiple languages and get the lifetime plan
You are using it as a supplement to your main learning material and not depending on it to master a language
You're at the lower beginner level in your target language
And, if you do decide to get Rosetta Stone, you can buy a lifetime license on Amazon for a 37% discount.